The Chuckawalla Rhythm Kings - BIG FOG:
In the fall of 2002, despite severe misgivings from the guitar player, CRK began work on the CD that would become "Big Fog."
We initially rigged the recording equipment in Colby's living room, but home support for the project evaporated when a room divider fell over in the night and smashed a coffee table. We tracked a couple of sessions at Nick's house, then finished up at Catamaran Media.
Never ones to let precision trump party, we ran through the tunes once, tinkered with mic positions, then pushed the record button, tracking instruments first, then vocals. "Down in the River" was recorded in one pass with a stereo pair of mics. Especially memorable is Nick's authentic folk delivery (Irish tourettes, we call it) on "Irish Rover."
Toward the end of "Mr. Isaac's Maggot," the discerning listener can pick out guitar, bass, two fiddles and three--count 'em--three accordions. Kind of a "Phil Spector Meets The Chieftains" Wall-Of-Sound. Or something.
But the standout track is, of course, "Angelina." Previously unperformed by CRK, the song wandered into rehearsal one day and warped us permanently. Soon, even Patti's unborn child had been spuriously named "Angelina." In a spastic fit of inspiration, we decided the song HAD to be on the CD.
So, with minimal rehearsal on a cold Saturday morning in December, we trooped down to our neighborhood watering hole, the Yuma Buffet, and set up a DAT recorder and two mics in the ladies loo. The result is truly a balm to the soul...pure ear candy.
This Zen moment in Yuma musical history was captured in video by the palsied hand of Lori Stofft. We share it with you below as "The Angelina Session."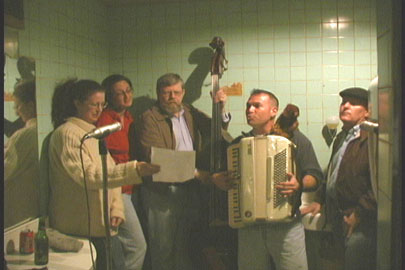 Live in the ladies loo, Yuma Buffet Bar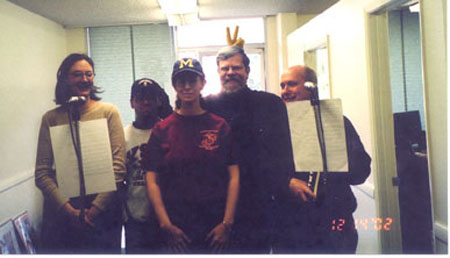 Jon misbehaves during the recording of "Down in the River."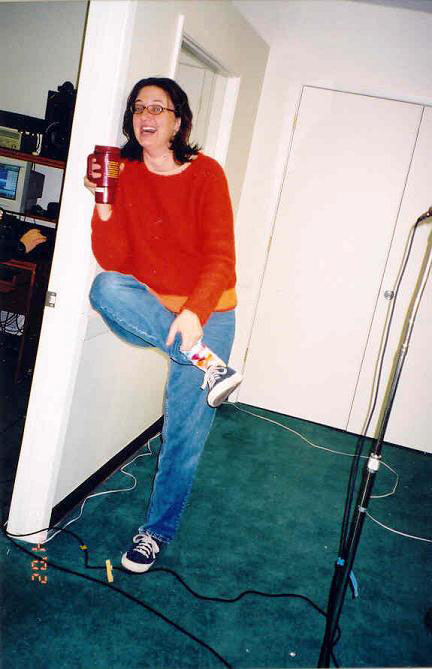 Lori shows her spiffy socks.

Big Fog
1)
Irish Rover
2)
Black Velvet Band
3)
I'll Tell Me Ma
4)
For Lovin' Me
5)
Star of the County Down
6)
John Ryan/Dennis Murphy
7)
Sonny
8)
Thibadaux
9)
Down In the River
10)
Mr. Isaac's Maggot
11)
Angelina
Click here to listen to a CD demo
The Angelina Session
Order a copy of Big Fog at [no longer available]