CRK pulls another one out of the Great Celtic Lizard Netherness
* * * * * * * *
Introducing "No Bedrolls or Backpacks."
Is it great? Is it wonderful? Is it more musically satisfying than "Neil Diamond Live at the Greek Theatre?"
What's with the lame questions? Have you been snorting charcoal lighter again?
Not only is it great and better than Neil, but it slices, dices, rices, and cures plantar warts in a single application....with a fresh lemony scent. Why, just look at these titles: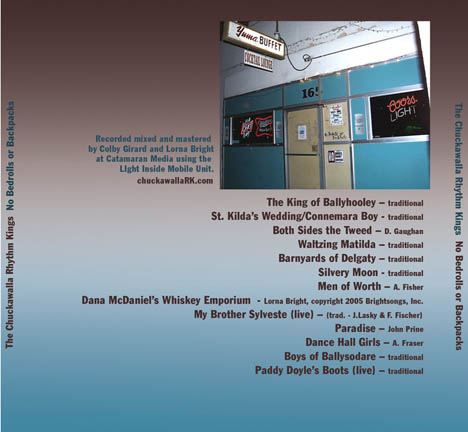 How can you stand to exist another second on the face of this smog-bogged planet without your very own copy? Starting to sweat, quiver and shiver just thinking about it? We thought so.
Just use your PayPal account. Send $12 (includes shipping!) to [contact deleted]. Don't forget to give us your address. Within a week, "No Bedrolls or Backpacks" will be racing towards your hovel.
Take one home, you'll be glad you did la la la blah blah. Lori's credit card is maxed out and she's starting to give the rest of us heat.
Here -- listen to it. Just click on Skaggy Angels.

* * * * * * * *